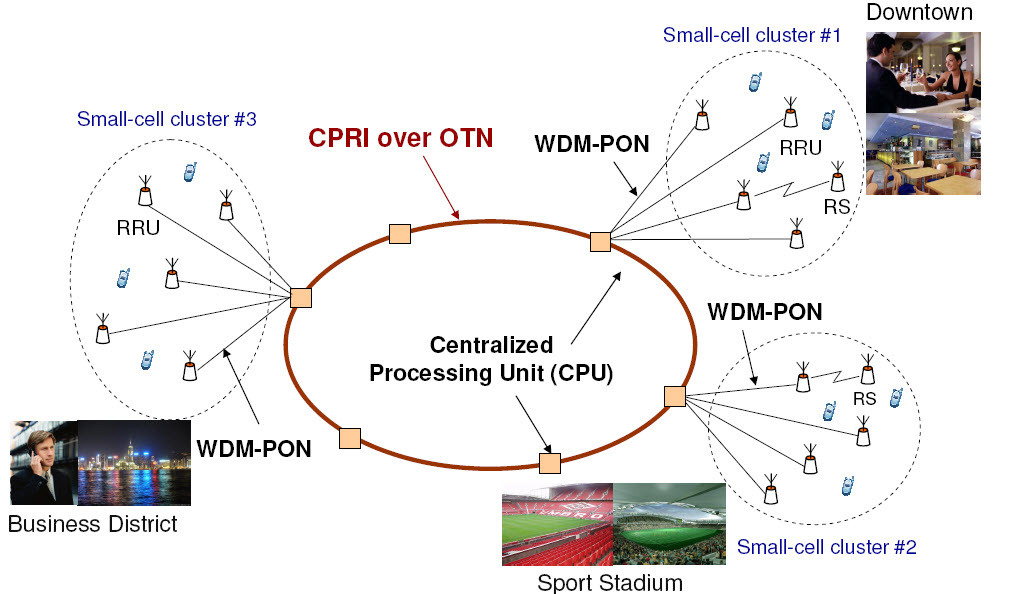 Distributed
Node-B
architecture called Cloud
Radio Access Network
(
C-RAN
) is the new paradigm in base stations architecture that aims to reduce the number of cell sites while increasing the base station deployment density bypassing some of the zoning and construction hurdles to brining up new sites on-air. Metro cities like NY, LA and
SFO
already have a high density of
Cell towers
. As
LTE
and more complex wireless technologies are being deployed – would it not make sense to re-use and harness the existing infrastructure?
The concept of the Cloud RAN comes with a new architecture that breaks down the base station into a Base Unit (BU) – a digital unit that implements the MAC PHY and AAS (Antenna Array System) functionality, and the
Remote Radio Head
(RRH) that obtains the digital (optical) signals, converts digital signals to analog, amplifies the power, and sends the actual transmission. By making the RRH an active unit capable of converting from analog to digital, operators can now place numerous
BUs
in a single geographical point while distributing the RRUs according to the RF plans. The RRH becomes an intelligent antenna array which not only submits
RF signals
but also handles the conversion between digital and modular data. New RRH can also support multiple cellular generation (2G, 3G and LTE) eliminating the need for multiple antennas.
The Cloud RAN lowers operating expenses and simplifies the deployment process. By centralizing all the active electronics of multiple cell sites, at one location (aka the "
Base Station
Server"), energy, real-estate and security costs are minimized. The RRH can be mounted outdoor or indoor – on poles, sides of buildings or anywhere a power and a broadband connection exist, making installation less costly and easier. The RRH is typically connected using fiber to the BU, creating cloud-like radio access network topology. This topology saves costs both during the installation and later on technology upgrades for both software as well as hardware saving the operators millions of dollars in CAPEX/OPEX.