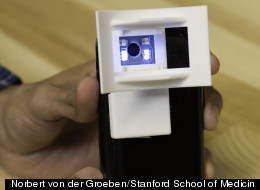 The newest tool for diagnosing oral cancer? It might be your
smartphone
.
Researchers from
Stanford University
have developed a smartphone app and attachable scanner that its creators hope can
improve early diagnoses of oral cancers
in places where dental checkups aren't easily accessible.
OScan is a pack-of-gum-sized device that attaches onto a smartphone camera, that includes a mouth positioner, two rows of light diodes and a
circuit board
. The tool can take a panoramic photo of the inside of someone's mouth.
The image is detailed enough that a dental professional would be able to screen for oral
lesions
, the researchers said.
The device is still being tested, but it has won two awards from the Vodaphone
Americas
Foundation this week. The creator, Manu Prakash, Ph.D., an assistant bioengineering professor at Stanford, said that he came up with the idea for the device when he was in
India
at a rural clinic, and saw photos of people with oral lesions -- but the lesions were so bad, many were inoperable.
"Sometimes I see a problem and it just sticks in my head. This was one of those moments for me," Prakash said
in a statement
. "I just could not walk away from that chance meeting. I knew friends at high school who used to chew tobacco constantly. Nobody talked about the dire consequences."