TV Everywhere
, please meet Home Phone Everywhere.
A Canada-based startup is pitching
MSOs
on a multi-screen service platform that will bring element of mobility to the typical home phone.
UXP Systems Inc.
says its Multiscreen Interaction (MINT) platform can hook into the legacy phone and billing platform in a way that lets MSOs bridge the "SIP gap." That will let cable phone subscribers access home phone services via tablets, smartphones and
PCs
connected to Wi-Fi or cellular networks. By extension, MINT also gives customers mobile access to their contact databases and voice mail. (See
Cable Sizes Up National Wi-Fi Play
.)
MINT works by verifying the customer in the operator's billing system, registering the device's SIP client, and authenticating the voice service itself. UXP's business model is a one-time license plus per-subscriber fees. It's integrated with
iOS
and Android devices and PCs. It'll let customers dictate whether to port to connected TV platforms,
Windows Phone
and
BlackBerry
devices.
On-the-Go Home Phone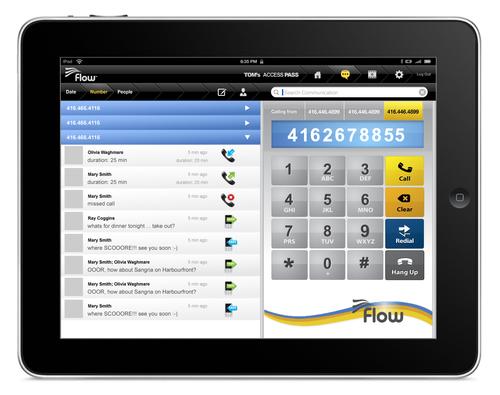 iOS is one of the first platforms that UXP is targeting with its multi-screen phone system.
While MSOs such as
Comcast Corp.
(Nasdaq:
CMCSA
, CMCSK) have developed in-house apps like Xfinity Mobile that cover some of those bases, most have yet to offer some sort of over-the-top client that can extend that home phone service beyond the home. Recent partnerships between major U.S. MSOs and
Verizon Wireless
would seem to make this type of scenario less likely for some MSOs, but it's an area in which UXP will try to differentiate with its multi-screen phone approach.
The Toronto-based startup is less than two years-old and its first announced customer,
Columbus Communications Inc.
of Trinidad, is preparing to start its Home-Phone-To-Go service next month following trials that began in January. Columbus, which is an investor in UXP, offers services under the Flow brand, has 200,000 customers.
UXP says MINT can be extended to video services, enabling operators to port their programming guides and even live programming to mobile devices. Flow is expected to do that using a subset of channels that provide TV Everywhere distribution rights.
UXP employs about 35 people and has some MSO trials underway. CEO Gemini Waghmare, formerly of
Telus Corp.
(NYSE:
TU
; Toronto: T) and
Amdocs Ltd.
(NYSE:
DOX
), says the company will turn its first profit in 2012.
Source:Internet