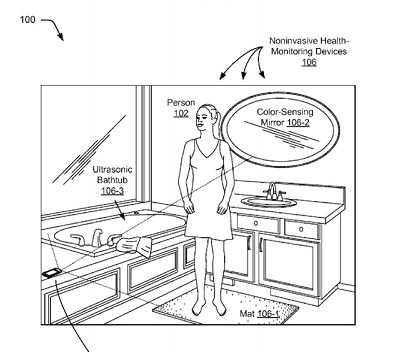 Assessing one's health is just a bathroom away.
Image Source: DailyMail
Google's
smart bathroom patent
, which was published last July, hints that bathrooms of the future can be capable of doing health checks for the body's cardiovascular, endocrine, nervous and integumentary systems.
The tech giant wants to make use of "noninvasive" sensors that will be embedded into fixtures. Google's smart bathroom concept includes a floor mat that can tell a person's heart rate, self-heating and -cleaning toilet seats that take blood pressure and bowel movement data, and an ultrasonic bathtub that checks blood flow and tissue movement via echocardiography. There will also be a skin color-sensing mirror that can also determine anomalous sizes of organs and limbs, and other health-tracking radars that can transmit data to user's devices.
Google's technology is advantageous for it can provide the user and his or her doctors with health data gathered on a daily basis, exceeding what can be done or obtained during monthly checkups.
It could be a good move for Google if it decides to make this smart bathroom come to life. The company has been trying to solidify its position in the smart home market, recently launching the
Google Home
voice-controlled assistant that rivaled Amazon's Alexa, and one of its engineers making a
DIY smart bathroom mirror
. With health-monitoring developed, it could gain an upper hand even in the smart home's bathroom segment.
Google is not the only the company recognizing the boom of smart bathroom fixtures. China manufacturers have been making their
sensor-equipped smart toilets
that can clean users automatically and soothe via water massage. With smarter bathroom technologies being developed, the industry could grow even more.